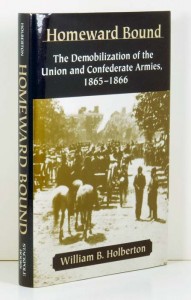 On April 1, 1993 William B. Holberton, a veteran of World War 2, submitted his Master's Thesis (Read it here) at Lehigh University. A thesis that would ultimately become a book published in 2001 by Stackpole Books. Hoblerton passed away in March, 2000, and the final editing was completed by several historians he worked with.
Homeward Bound: The Demobilization of the Union and Confederate Armies, 1865-66
by William B. Holberton.
Appendices, notes, bibliography, index, 208 pp., 2001. Stackpole Books, 5067 Ritter Rd., Mechanicsburg, PA 17055, $24.95 plus shipping.
Holberton was tackling a topic rarely addressed by Civil War historians before and since. The immediate break up and in some instances in the South the breakdown of belligerent forces after the closings shots of the conflict were fired. What happened to the men? How was this process of demobilization engaged? And how did they return home to their families and loved ones?
Holberton determined there were five factors that defined demobilization: the number of men processed; the speed at which it was accomplished; process of redeployment (for example to the Great Plains to fight Indians); the vital role played by railroads; and the model for how provisions for demobilization were provided.
As one can imagine the North had a comprehensive plan that was executed and worked astonishingly well: "Some 77% of the volunteer forces in the army were mustered out and discharged
within a period of seven'and a half months."
The South had no central plan and was virtually crippled to institute a plan. Local communities and civilians had to help their veterans find their way home in many instances. Men traveled South with barely anything left, many without shoes.
Since Holberton's work there still has not been a lot published on what happened to soldiers after the war, especially the decade or so after before "remembrance" kicked in with regimental histories and autobiographies.
As I addressed here, what happened to these men as they struggled to reintegrated back to civilian life? What about PTSD and how soldiers who were permanently injured dealt with disability? Finally, how many ended up in Soldier Homes as invalids or even insane asylums?
Many could not sit still and drifted from place to place. Others, mainly veterans living in the Trans-Mississippi region headed west taking advantage of the Homestead Act. Others traveled west just to escape the memory of the war and some to try and strike it rich.
At this point we simply do not have much data gathered up. Hopefully in the coming years someone will. (Applying for research grants so maybe I will be able to!)